Can summer slow down a bit please? I'm having a hard enough time trying to hold on to my stitching mojo as it is without the month's vanishing on me! Okay for my WIPockalypse, I just have the commission Wedding piece to show: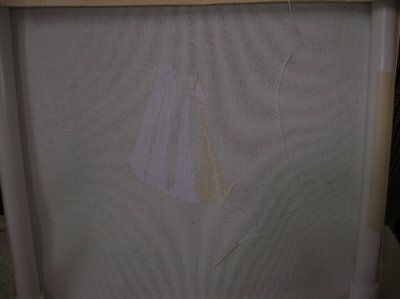 It's on 28 count antique white evenweave (my first time doing this small of a count) and it's over 2 which makes it even more fun.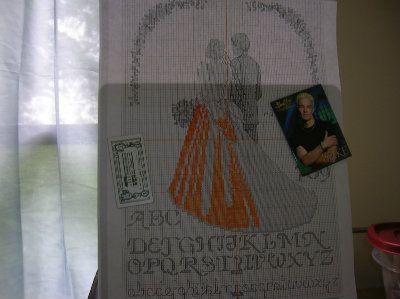 That's how much of the pattern I have done, marked off with orange highlighter. *grins* as to what the pattern's on, that's an old "magnetic poetry board" which stands up really nicely and I don't have to worry about felines laying on the pattern, thus forcing me to either move them or put the stitching up for a while. And now my traveling TUSAL jar:
As you can see, not much, but that's all the wedding pattern there. Hopefully, I'll get the days to slow down, but I am really looking forward to this weekend when my only plan is going to a Circle of rhiannon Hafla down by Cincy to meet up with my dancing friends. *rolls eyes* My boss apparently took my announcement that I'm expecting to mean that I'm not dancing anymore so she's been scheduling me late on Thursdays. Frankly, the only class I was going to drop was the Intermediate Choreography since I wouldn't be able to perform with any of the ladies until after the baby's born, but working as late as I am on Thursdays means I'm missing my Beginner Technique class. Major Bummer.