*trumpets blow* *pretty girls and boys dance down the street, throwing flower petals weverywhere*
I am
delighted
to announce that after two false starts and a complete redo,
Beware of Zombies
is....
FINISHED!!!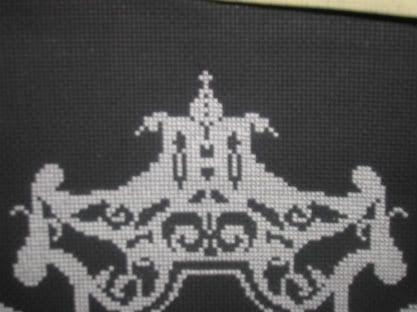 a bit of detail at the top.
I tried to fill the black bits in with white (save for the center around the letters) and the white
completely
faded into the gray thread. I offered my friend two choices: consider this finished as is, or I'd redo it with a darker gray and add the white in. She decided she liked it as is.
So next up, I'm going to work on something for me as well as something for my nephew. For me, it's going to be
Royalty
from HAED, and for my nephew,
The Oak Island Mystery
which I'm hoping he'll get a kick out of.