I had someone who was trying to help me all day yesterday by taking up my stitching space.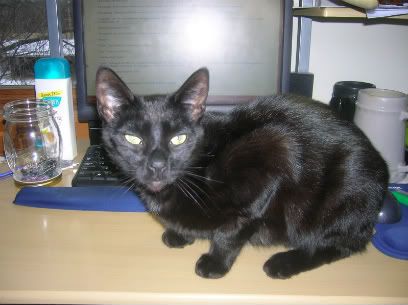 Meet Bacchus Bratticus. He likes heping Mommy stitch, especially if he can pounce the string and shove the whole thing into her face. He's not really evil. It's just the way the camera's flash caught him.
I did get some stitching done however, both on
Royalty
and
Beware of Zombies
.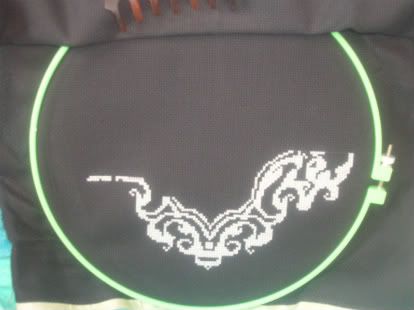 Before
After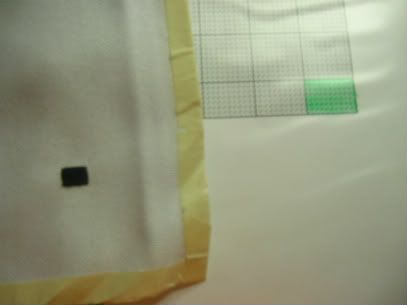 Before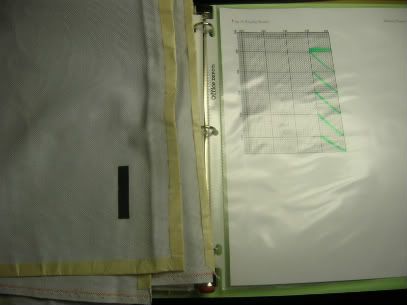 After.
I ended up carefully tearing out all the stitches I had done before because, as I was stitching wtih two threads, it was starting to push the fabric weave out of place and warping it. So I had to restart with one thread. *shrugs* You live and you learn.
Also, my new TULSA Jar!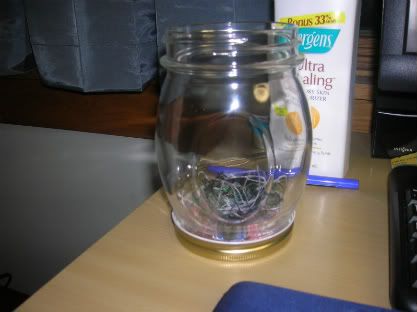 I saw that in a Kroger's Marketplace and really
really
liked the look of it. As it was on sale, I bought it.
Now, on the Terry Pratchett front, I've finished
Men At Arms
and have picked up
Mort
to read next, but I'm
really
enjoying the Night Watch books. I'll probably read through all of them just to say I did and then really covet and collect the Night Watch books. *grins* Also, for this challenge, I'm also going to read
Good Omens
again since that was a Terry Pratchett book that he wrote with Neil Gaiman. A wonderful book IMO.
I'm sort of thinking about stitching
Ishtar
for my belly dance teacher because she sorta looks like that when she's dancing. All proud and majestic. Maybe when I get a bit of breathing space in my current projects 'cause I'd hate to start that and then never finish it. Right now the one I'm really itching to do is
Midnight at the Oasis
and listening to belly dance music while I'm stitcing is not helping that urge. *grins* Maybe I'll start on that one to break up the monotone of the other two pictures.
EDIT: It was
Royalty
that I had to frog completely. Sorry. It made sense in my head but didn't get translated to paper.